Thinking about finally upgrading your bed and you want to make sure you get the absolute best of the best when it comes to beds? Then you are in the right place. If you want quality, you need to make sure your bed gives you a sense of luxury. So today, we'll be taking a peek at some of the most expensive bed options out there.
Beds are considered the epitome of rest, beds usually take center stage inside your bedroom, the space in your home where you'll be spending hours and hours while you sleep. It goes without saying, beds are key pieces of furniture that, in addition, to providing a place to sleep, can also elevate a room with their luxurious build and classy finishes. And you certainly do not want to mess up when it comes down to choosing the right bed for your night's rest.
If you are the type that values high quality, then you probably put your eyes on the most expensive items. So if you have your eyes set on selecting the absolute best, here you'll find just that. Though you may not be able to afford some of these beds, you'll get an idea of what a high-quality bed is like. Keep reading and get to know some of the most expensive bed options.
Most Expensive Bed FAQ's
What is the most expensive bed made out of?
Priced around $150,000, Hästens, the company behind the mattress, describes it as "the world's most luxurious bed." The bed is handmade with layers of natural materials like horsehair, according to the company, allowing the mattress to breathe, remain dry and maintain a comfortable body temperature.
What makes an expensive bed expensive?
Today, a bed is so much more than just a bed that you sleep in. It can also come with a complete entertainment center, artwork, or fancy fashion products. If you want the best comfortable bed on the market, you'd need to pay a lot of money.
Beds all serve the same purpose, which is to provide us with good sleep and rest. Some beds are created with a lavish touch, and they have many other purposes, more than just sleeping. These kinds of beds are not affordable for everyone, of course.
Most Expensive Bed
The Sphere Bed comes wrapped in a sexy red frame which adds extra durability, you know what for, and some ways to diversify one's love life.
It comes equipped with a 32-inch LCD TV and a surround sound system to create the atmosphere, a champagne space at the lovers' disposal, and a massage unit embedded under the mattress for full relaxation.
It also comes with mirrors and LED lights. This bed is available if you buy it for a whopping $50,000. This is obviously expensive for a bed, but it is one of the cheapest options on this list.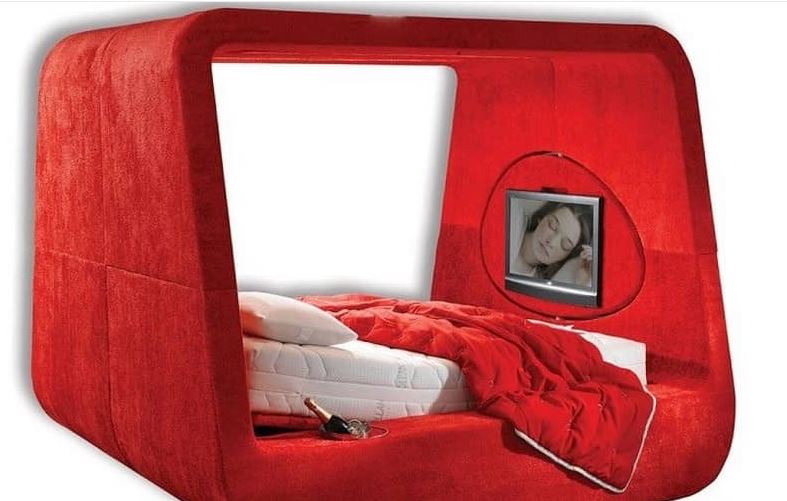 Pin
Features:
32 inch LCD
Mirrors
LED lights
Starry Night Sleep Technology Bed by Leggett & Platt comes with a plethora of gadgets to render you comfort.
This bed is much more than just a plain double bed. It features its own theatre system, iPod dock, disc storage, Internet connectivity, and even diagnostic tools to monitor the body's temperature and movements.
To be more precise, this Starry Night bed comes with an integrated surround sound speaker system that rises from the headboard and footboard, plus an LCD headboard projector that shoots an image on the opposing wall. The high-tech bed ranges between $20,000 to $50,000 depending on the customized features.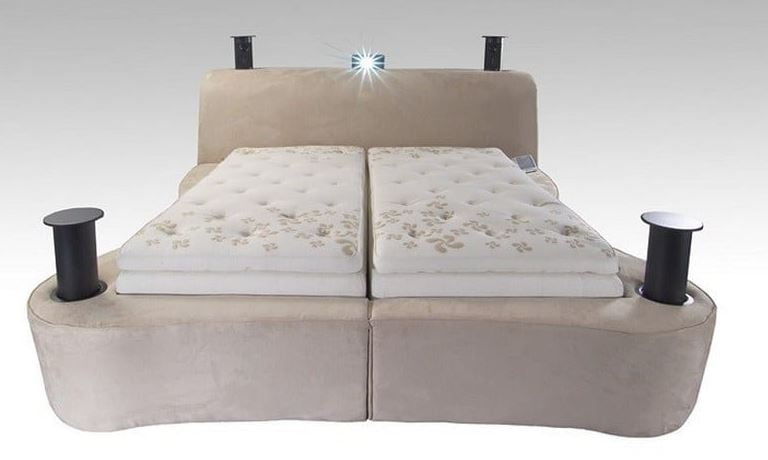 Pin
Features:
Theatre system
iPod dock
LCD headboard
Cosmovoide is the latest innovation in "dreamy" design; this new bed will lull you to sleep in the lap of luxury. Designed by northern France craftsmen with a focus on well-being, this unusual bed is inspired by an egg with elements of the traditional four-poster beds.
The modern bed design features a contemporary rounded shape that's fully upholstered for a lush, plush sleep. Two mattresses are suspended in the frame, similar to a hammock, which flexes to your body shape for a custom comfort fit.
Built-in LED lights overhead, a telephone, a home theatre, and an integrated TV at your feet add contemporary convenience to the dreamy mix.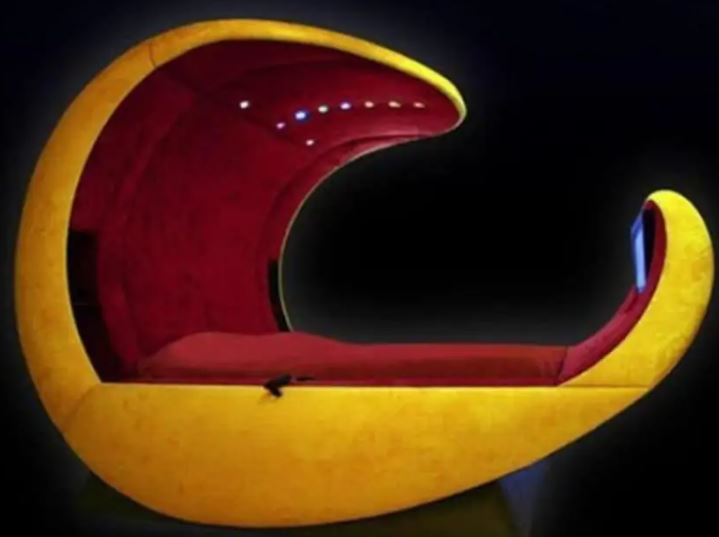 Pin
Features:
LED lights
Home theatre
Integrated TV
The brand new Diamond Majesty mattress from Vispring; a renowned British heritage brand and home of bespoke luxury beds and mattresses.
The most luxurious mattress in the collection, the Diamond Majesty was created using unrivaled expertise in mattress-making, with a unique combination of vanadium pocket springs and sumptuous fillings to provide the ultimate sleep experience.
Two layers of pocket springs for support. The frame is solid beech, while the upholstery is a blend of wool, horsehair, and cotton for incredible comfort. This luxurious bed is hand-filled with some of the world's finest natural materials: British wool, loose British horsetail hair, Shetland wool blended with cashmere and silk, bamboo, and lavish Royal Alpaca fleece wool, Shetland fleece wool, and organic cotton.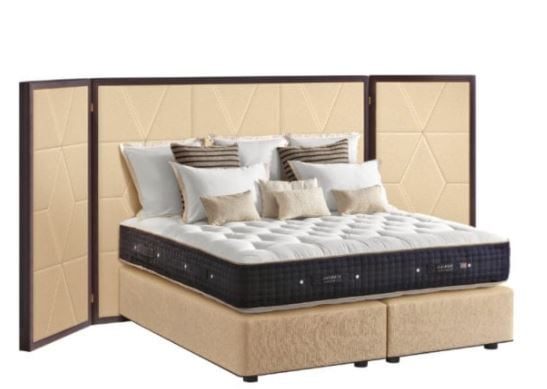 Pin
Features:
Three-layer hand-nested calico pocket spring construction
Hand-filled with some of the world's finest natural materials
Upholstered with coir and wool and finished in British merino wool
The Quantum Sleeper is one you would love to purchase if a zombie apocalypse is waiting. The bed won't obviously protect you from an explosion, but it will safeguard you from natural disasters and even bullets.
Some of the best features include a refrigerator, a microwave, and a TV. It also comes with filtered ventilation, and this makes the Quantum Sleeper the best survival bed.
If you add smoke and other detectors, you can say that this bed is one of the safest of them all.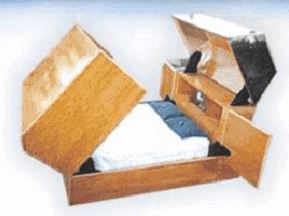 Pin
Features:
Battery Backup Power
Toiletry system
Bio-Chemical Filtered Ventilation
This original leather-upholstered bed with a circular design is bound to confer refinement and elegance on any bedroom.
Its harmonious and generous silhouette is enhanced by a headboard panel that follows the curves of the bed. The headboard height is 27"; the base height is 10"; and the wood legs are 1 ½" high.
Standard features include a hardwood frame; a dacron wadding headboard covered in polyurethane; the base is also in polyurethane; the mattress is not included in the price; the perforated wood platform under the mattress.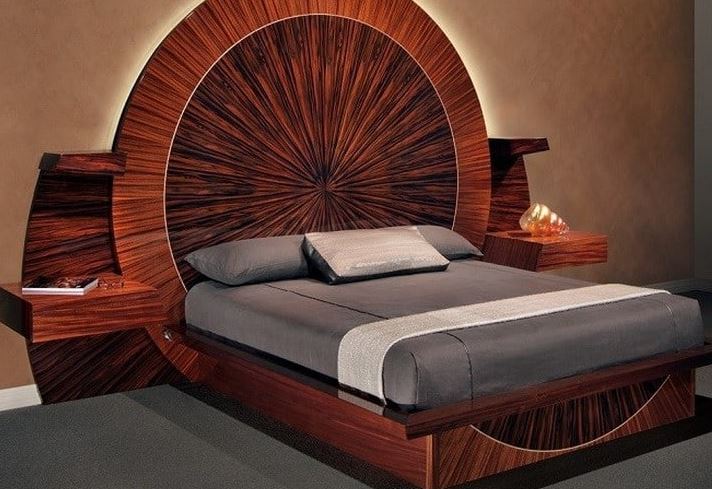 Pin
Features:
Hardwood frame
Dacron wadding headboard
Polyurethane
Jado Steel's Golden Bed also promises its owner a one-of-a-kind luxurious bedding experience. Redefining luxury furniture, this Golden Bed is coated with 24 ct gold and embellished with Swarovski crystals.
The gilded bed is merged beautifully with hi-tech technology that is sure to appeal to every luxury-loving person.
This kingly bed's hi-tech offering includes a DVD/Blu-ray player, BOSE sound system, internet connection, and a limited edition Pioneer PDP LX-5080W TV coated with gold.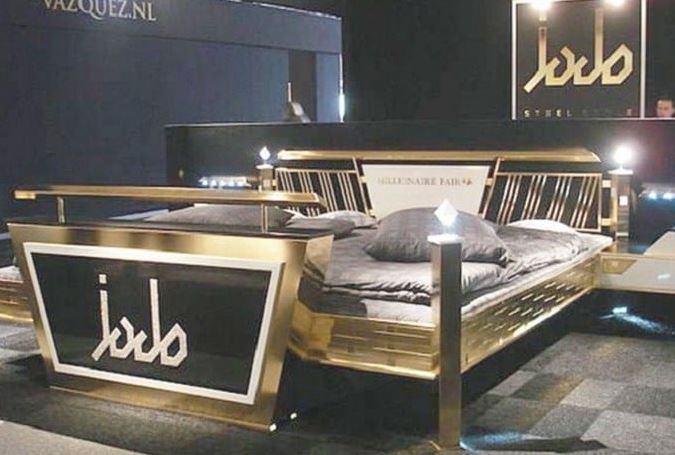 Pin
Features:
DVD/Blu-ray player
BOSE sound system
Internet connection