Are you a chess enthusiast? you may have wondered about the most expensive chess sets out there. If you can relate, then you are in the right place. If you are also looking for a chess set for yourself and want quality, certainly you must make sure your chess set offers a sense of luxury. So today, we'll be taking a peek at some of the most expensive chess set options.
Chess has held the distinction of being one of the most popular strategy games in the world for centuries; Chess players are often regarded as bright people with both intellectual and strategic skills, and having an expensive chess set makes them look good and also elevate your game to the next level giving you the confidence you need to succeed.
If you value high quality, then you probably put your eyes on the most expensive items. Though you may not be able to afford some of these chess set options, you'll get an idea of what a high-quality set looks like. Scroll down and find out more about the most expensive chess set.
Most Expensive Chess Set FAQs
What is the most expensive chess set in the world?
The Pearl Royale Chess Set. The most expensive chess set in the world is made from solid 18k white gold, inset with more than 500 carats of diamonds, royal blue sapphires, and South Sea Pearls, the Pearl Royale Chess Set is valued at $4 million.
Who made the most expensive chess set in the world?
This opens in a new window. This chess set was created by the Australian artist and goldsmith Colin Burn and is worth 4 million dollars. The high value is partly due to the materials used.
What is the most famous chess set in the world?
The Lewis chessmen or Uig chessmen, named after the island or the bay where they were found, are a group of distinctive 12th-century chess pieces, along with other game pieces, most of which are carved from walrus ivory.
Most Expensive Chess Set
The French crystal maker Baccarat designed this beautiful crystal chess set on their 250th anniversary in collaboration with Japanese designer Oki Sato.
The pieces are made from midnight-blue and clear crystal, and each piece took over 100 hours of crystal cutting to complete.
Comprising of immaculately hand-cut 32 pieces made in midnight blue and clear crystals (instead of the traditional black and white), each piece epitomizes Baccarat's glass-making skills and Nendo's design masterclass.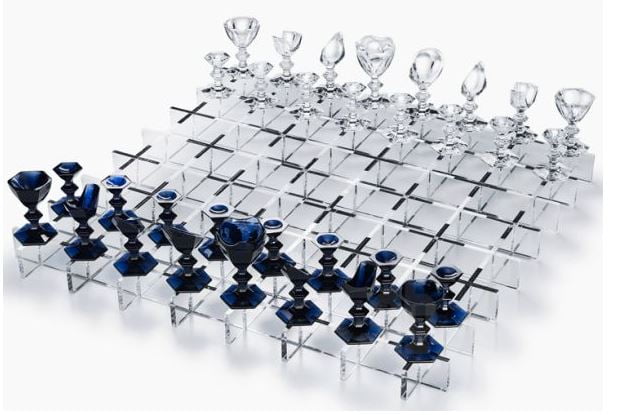 Pin
Features:
Hand-cut
Blue and clear crystals
Cybis Porcelain Chess Set. Offered here is the original, Limited Edition Cybis Porcelain Chess Set #5/10, with a 7" King, circa 1970. One army is predominantly green in color and the opposing army is primarily Blue.
The figural chessmen are housed in a large Mahogany storage casket housing two removable trays with fitted compartments to store the chessmen.
Cybis experimented with this casket, which is larger and more elaborate than the earlier ones, the only one made one in this configuration. The delicately sculptured porcelains are decorated with jewel-like enameling.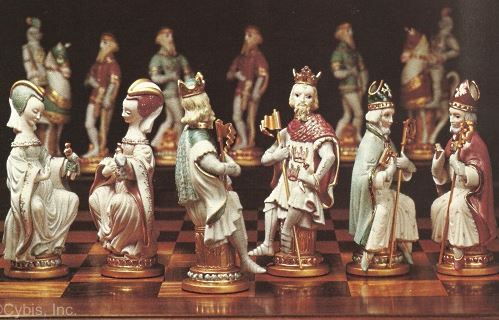 Pin
Features:
Carved pieces
Porcelain
Jewish, Hebrew, and Pagan figures
This set features the classic Arthurian-inspired court of royals, knights, and turrets, a marvelous depiction of medieval warfare.
The set is inspired by the historical accounts of Charlemagne and is crafted on gold-plated legs. Unique chess set, made in bronze by "lost wax casting" process, finished using gold 24 karats.
Each piece is signed by the sculptor. The chessboard is made in onyx and bronze with bronze and gold frames. Stools in bronze with soft velvet seat.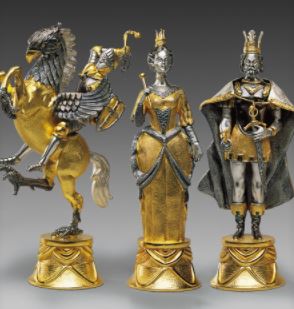 Pin
Features:
Bronze
Finished using gold 24 karat
Onyx and bronze with a frame in bronze and gold
A world-renowned manufacturer of exquisite games and luxury items since 1958, Geoffrey Parker has recently presented one of the most expensive chess sets in the world, the Silver Jubilee Edition Chess set.
The traditional British manufacturer of luxury games names it the perfect gift for the most discerning of chess players and has had it approved by the United States Chess Federation.
Made from sterling silver and gold leaf pieces, this set was a gift to celebrate 25 years of the reign of Queen Elizabeth. The chessboard is authentic buffalo calfskin leather.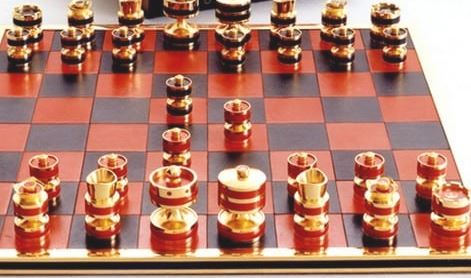 Pin
Features:
Sterling silver
Gold leaf pieces
Jim Grahl originally designed this chess set in 1972 on a commission basis. Valued at $450,000.
The total weight of all the pieces in this set is believed to be almost a pound. Each of the pieces is crafted from 14 karat gold and solid silver.
The chessboard is manufactured from ebony wood which is further embellished with sterling silver.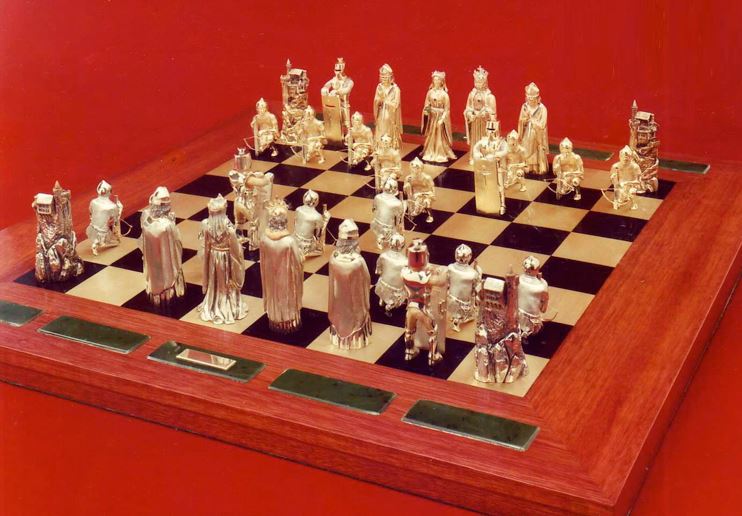 Pin
Features:
14 karat gold and solid silver
"The 14-carat white gold Royal Diamond Chess is set with approximately 9900 black and white diamonds, is without a doubt an extraordinary luxurious version of the classic chess set.
Designed by the world-famous French artist, designer, and master of jewelry, Bernard Maquin, and as part of the Charles Hollander Collection, "The Royal Diamond Chess" is a rare and precious work of fine art jewelry.
This entirely hand-made creation is an expression of meticulous artisanship. With a harmonic combination of aesthetics, functional is, and beauty.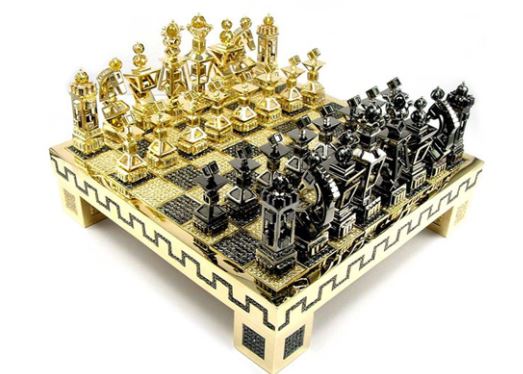 Pin
Features:
Black and white diamonds weighing a total of 186 carats
 14-carat white gold
Silver
Taking two years to patiently craft, the Game of Kings Chess Set weighs more than a ton and contains more than 110 pounds of silver. It comes close to topping the charts of the world's most expensive chess set.
Inspired by ancient Aztec and Mayan civilizations, this work of art was subsequently a major attraction at museums and gallery exhibitions for a number of years.
Weighing over 2400 pounds, one must see it in person to appreciate the sheer magnitude of this chess set table. The Kings made of black and red obsidian, respectively, have a 925 silver, 22k gold vermeil, and turquoise finish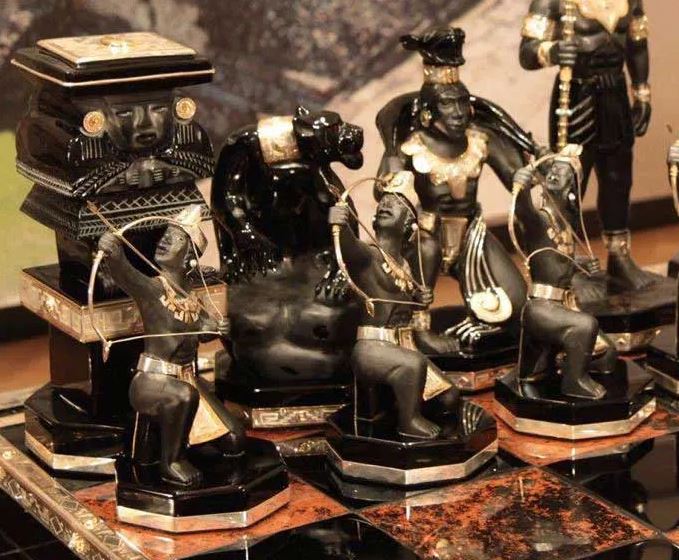 Pin
Features:
Silver finishing
Black and red obsidian
22k gold vermeil, and turquoise
Pretty expensive, yet amazing sets indeed; similarly, would you like to check out what is the most expensive bed?