Is your living room missing something, and you think a chair could be it, but you also want to make sure you get the absolute best of the best when it comes to chairs? Then you are in the right place. If you're going to stand out, you need to make sure your chair selection gives you a sense of fluidity with the rest of your decor. So today, we'll be taking a peek at some of the most expensive chair options.
Chairs are indeed key pieces of furniture in any room; they not only serve the obvious purpose of providing a comfortable place to sit but can also elevate any room and become the key piece that your decor revolves around. You can expect the most expensive chair to be made from rare materials in a limited edition; you also have those with sentimental or historical value.
If you are the type that values high quality, then you probably put your eyes on the most expensive items. So if you have your eyes set on selecting the absolute best, here you'll find just that. Though you may not be able to afford some of these chairs, you'll get an idea of what a high-quality chair is like. Keep reading and get to know the most expensive chair.
Most Expensive Chair FAQs
What is the comfiest chair in the world?
Created in 1962 as 6250 by G Plan, it quickly became known as 'The World's Most Comfortable Chair.' And now, renamed as The Sixty Two. A distinctive winged design, soft foam cushioning, and deeply buttoned back provide the ultimate in comfort. For added luxury, it rocks and swivels too.
What's the most expensive gaming chair?
The Ergoquest Zero Gravity Workstation. Taking the trophy for the most expensive gaming chair is the Ergoquest Zero Gravity Workstation, costing up to $12,995. The key feature is a motorized dome that lets gamers change the center of gravity, providing you with a truly immersive gaming experience that's also great on your back.
Why is the Dragons chair so expensive?
The enormous amount paid for the chair is probably because it was a rare piece designed by a famous artist and owned by other famous people through the years. This piece wasn't considered a simple piece of furniture; it was seen as a work of art.
Who owns the dragon chair?
It was acquired by Parisian art dealer Cheska Vallois in 1971 for $2,700 and then sold by Vallois to the French fashion designer Yves Saint Laurent in 1973. The chair was put up for sale as part of the Yves Saint Laurent and Pierre Bergé collection in February 2009 at Christie's auction house in Paris.
Most Expensive Chair
Hans J. Wegner designs an oculus Chair to make it stylish. The seat's name was decided according to the back curve that seems like an eye, and Oculus is the Latin word used for an eye.
The construction of this seat is done perfectly to make it comfortable for providing supper to the neck and back.
It is enhanced with the legs made from pure stainless steel, and the leather used for its seat is pure and the best fabric available. In addition to the previously noted, this chair is also a very stylish seat to keep at any place.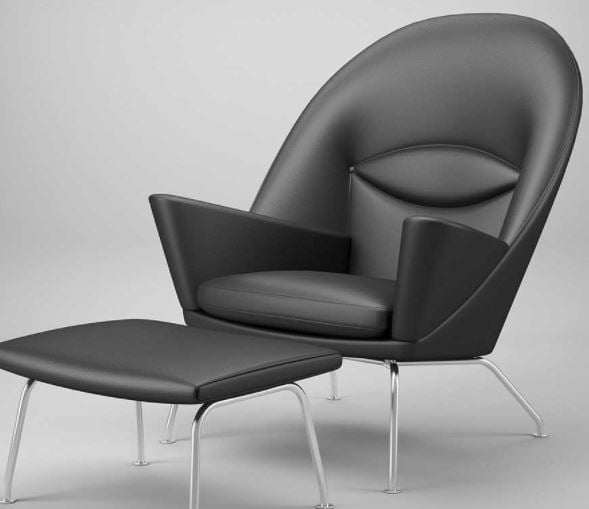 Pin
Features:
Stainless steel frame
Slopping legs
Sculptured silhouette
The Coconut Chair is available in a choice of upholstery options and patterns that offer a range of expressions for the generously padded shell.
Its simple, striking curved polymer hull is lightweight but sturdy and sits atop a three-legged bent steel base in either white or trivalent chrome.
Named according to the shape of this seat and made on the pattern of coconut and is the best thing to sit comfortably. It allows the person to sit on this seat in any position with perfect ease.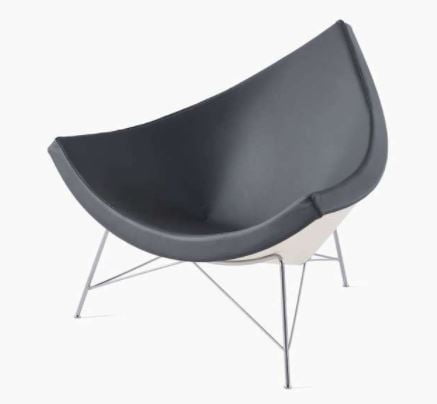 Pin
Features:
Curved polymer hull
Lightweight
Three-legged
The Egg chair by Arne Jacobsen is a masterpiece of Danish design. Jacobsen found the perfect shape for the chair by experimenting with wire and plaster in his garage.
Today, the Egg chair is recognized worldwide as one of the triumphs of Jacobsen's legendary career and a Scandinavian design icon.
It was designed in 1958 especially for keeping it in reception and lobby of luxurious hotels and is available in a large variety of fabrics. It also has an additional footstool with it.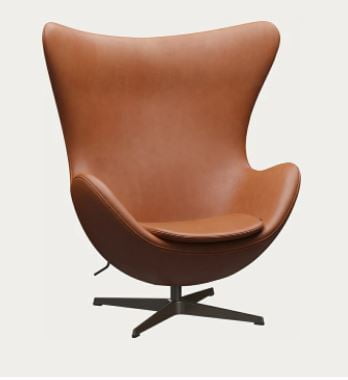 Pin
Features:
Armrest height 58 centimeter
Seat height 37 centimeter
It is the chair designed by the famous name of the architecture world, Frank Gehry; he is the most famous architecture name.
Included in the list of the most expensive chairs globally. It is made with thermo-gel, is comfortable for all movements, and is a flexible option.
Available with a cushion and without a cushion as well. This seat also received an award called Best Design of the year because of its attractiveness.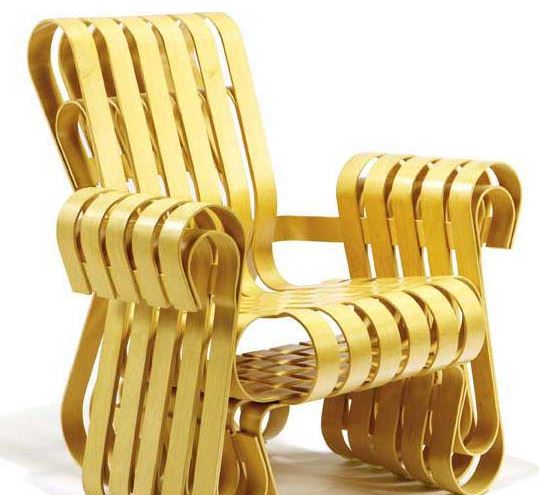 Pin
Features:
Constructed of hard white maple veneers
Ergonomic movement and flexibility
The iconic Chieftain Chair is one of Finn Juhl's absolute masterpieces, representing the peak of his career as a furniture designer.
Nowadays, it is perceived as one of the most important exponents of the Modern Danish movement in the US during the 1950s. For this reason, Finn Juhl is often considered the father of Danish Modern.
Inspired by modern art, the Chieftain Chair, with its organic shapes, liberated itself from traditional Danish furniture design; as well as strict functionalism in shape, construction, and materials.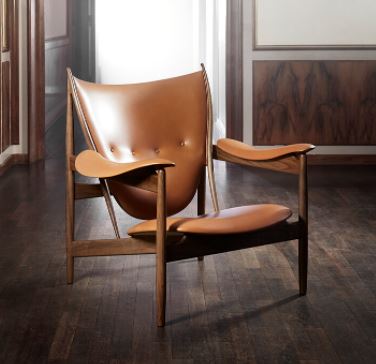 Pin
Features:
Manufactured in walnut
Upholstered in leather
Firstly let us tell you that the Banquete chair designed by Fernando and Humberto Campana in 2006, was made in a limited number of 25 only.
In short, it is a perfect seat designed in its signature style. Enhanced with embroidered pandas; comes up with a certificate of authenticity.
The legs of this seat are pure stainless steel, and the whole structure of the seat is beautiful for people.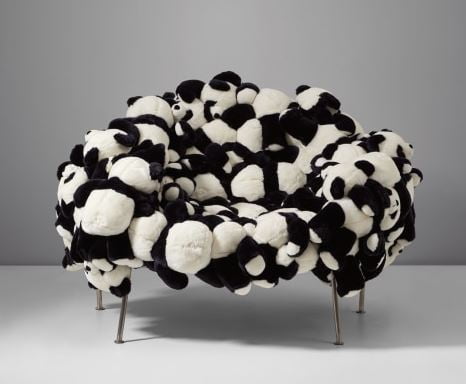 Pin
Features:
Limited edition
Stainless steel
Unique design
Furthermore, would you also be interested in knowing which is the most expensive bed? What about the most expensive stroller?