Thinking about finally giving piano lessons a try and you want to make sure you get the absolute best of the best when it comes to pianos? Then you are in the right place. If you want to stand out, you need to make sure your piano gives you a sense of musical luxury. So today, we'll be taking a peek at some of the most expensive pianos.
Pianos are without a doubt the epitome of musical class and the beginning musician's instrument of choice. You can expect the most expensive pianos to be made from rare materials in a limited edition; you also have those with sentimental or historical value.
If you are the type that values high quality, then you probably put your eyes on the most expensive items. So if you have your eyes set on selecting the absolute best, here you'll find just that. Though you may not be able to afford some of these pianos, you'll get an idea of what a high-quality piano is like. Keep reading and get to know some of the most expensive pianos.
Most Expensive Pianos FAQ
How much does a high-end piano cost?
High-end upright pianos average around $10,000 to $25,000. Entry-level grand pianos costs between $7000 to 30,000. High-end grand pianos such as Steinway, Bosendorfer, and Yamaha can cost between $65,000 to $190,000.
Why is a Steinway so expensive?
The various models of Steinway pianos vary in cost largely due to increases in overall size. A larger model requires more wood materials and action parts, along with the additional labor and craftsmanship needed to build a larger piano. Larger models also have added value for their richer tone and dramatic appearance.
Why is Bosendorfer so expensive?
IMO, not only is the price of Bosendorfer high because of the large number of man-hours, the uncompromising quality of parts and materials, the very high level of skill of the workers- but also because of how much those men are being paid per hour.
How much is a Bosendorfer grand piano?
Bösendorfer Imperial Concert Grand pianos, handcrafted in Austria, retail for between US$256,000 and $560,000 in the U.S., depending on finish, design, and whether the Disklavier Enspire computer reproducing system is installed.
Is Yamaha better than Steinway?
Steinway pianos are typically quite a bit more expensive and can in some instances retail at twice the cost of Yamahas. So, if you're looking for a more cost-effective quality piano then a Yamaha may well be the more preferable option.
What makes an expensive piano expensive?
Materials and craftsmanship play a huge role. The amazing feat of engineering that goes into producing the most expensive pianos in the world is extraordinary.
Tens of thousands of moving parts have to work perfectly in unison to allow the action to move with precision and immediacy that enables the pianist to create a truly magnificent performance.
The actual materials of the luxury piano are very particular and therefore in short supply. For instance, Blüthner, Fazioli, and other legacy manufacturers only use spruce soundboards, rare woods, industrial-grade lucite, and carbon fiber to name a few.
Some of the most expensive luxury pianos are gold or silver-leafed, inlaid with mother of pearl and rare woods, have custom lighting installed within the elements of the design, and are composite with alloys like chrome and aluminum.
Before the painstaking work begins the design of the piano has to be conceived, engineered, and calculated so that the final result not only looks stunning but sounds so as well.
The propositions, the size/weight/material ratio all affects the sound, acoustical reverberation, and steadiness/durability of the piano.
Most Expensive Pianos
Hive Xtravaganza is another bionic-inspired creation of Lucid Blüthner. Made of transparent and colored acrylic Hive, elegant proportions and high visual impact are tender.
The seemingly randomized cutouts of the lid, music stand, and side panels of the body resemble a plant membrane with its body resting on slender, slightly curvaceous legs.
The cutout elements can be in any color giving you infinite options to have a unique and beautiful modern grand piano matching or complimenting the color scheme of any space.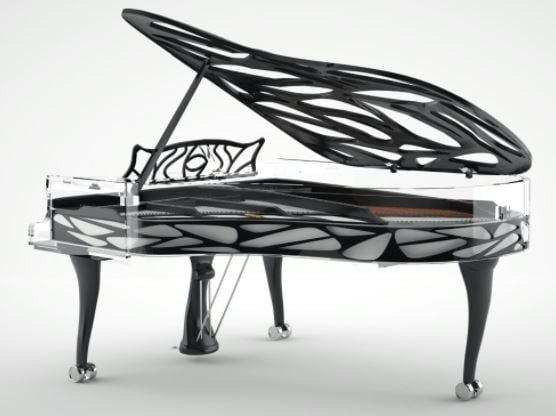 Pin
Features:
Brass
Chrome
Quarter-sawn
Blüthner created this one-of-a-kind masterpiece with an artwork inlay of 24K on the inside of the lid.
The result is stunning; an elegant ebony instrument but when the lid is open it reveals the remarkable tableau in gleaming gold.
Needless to say, the lid is the most expensive part of this instrument. Blüthner is an iconic piano brand that has been innovating and producing some of the world's most beautiful pianos for over 160 years.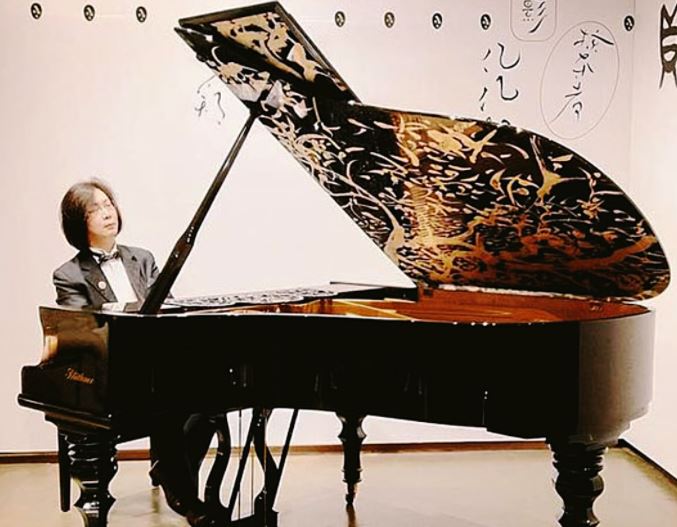 Pin
Features:
Based on the F228 model this jewel of the piano is completely covered in 24K gold leaf. All done by hand.
The uniquely formulated polyester coat seals the gold and keeps it protected so this gleaming grand piano will remain safe from surface scratches and dents.
This coat also increases gold's luminosity and iridescence giving the piano an ever-changing appearance. The classic lines of this piano are beautifully proportioned so the gold lief stands front and center to mesmerize and delight.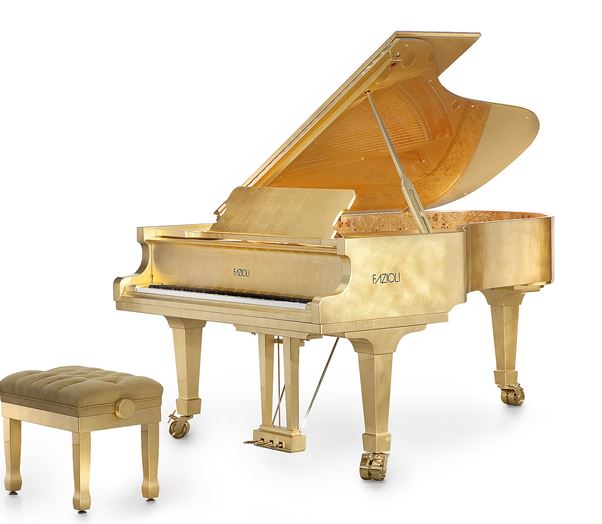 Pin
Features:
24-carat gold
Transparent polyester
Luminous surface
Covered with gold leaf, the piano's sublime golden interior permeates the instrument's body. Not boastful pomp but exquisite elegance. Inspired by the golden caryatids that still adorn the concert hall of the Wiener Musikverein, two of these figures decorate the front of the instrument.
The caryatids were cast in bronze using the traditional lost wax technique before  gold covered.
This piano features extension of Bosendorfer's emblematic sub-contra base notes all the way to F; which add depth to its signature orchestral sonority.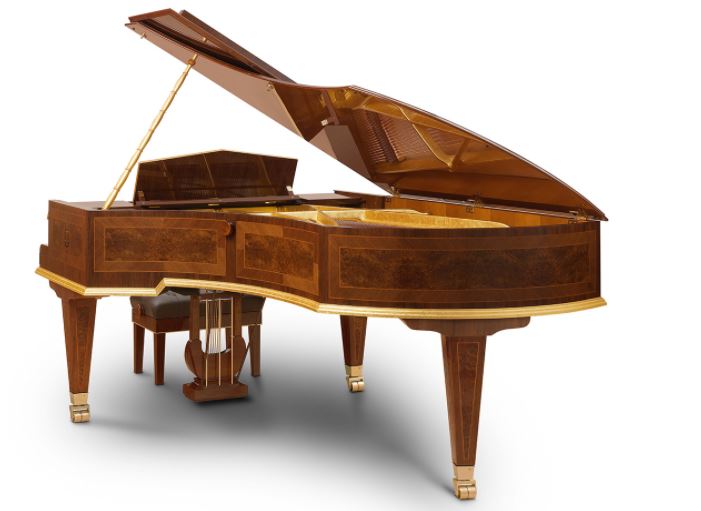 Pin
Features:
Covered with gold leaf
Sublime golden interior
Utilizing Blüthner's proprietary 3D printing capability and carbon fiber Lucid EXO is an evolutionary result of the know-how of the world's leading luxury piano legacy manufacturer.
The exoskeleton holds within it a high-performance mechanism revealed by asymmetrical lucite panels seamlessly integrated into the design of the body.
The colorway and further customizations are available from Blüthner Lucid Pianos. With Lucid EXO you experience the future of piano making.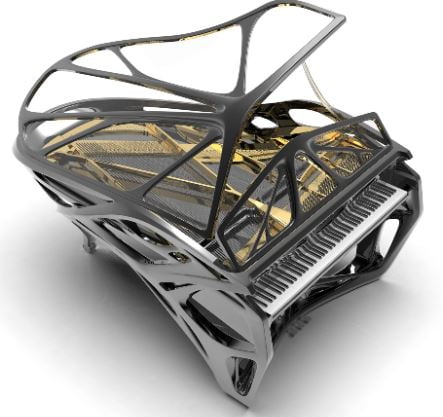 Pin
Features:
With over 1800 hours of artisanal work and 32 months of build time this Napoleon Bonaparte Empire style grand piano, will dazzle anyone who glimpses it.
Covered in fire-gilded figurines it combines Greek, Egyptian and Roman motifs in the essential Napoleonic Empire style.
Gleaming gold and richness of the wood combine is the symphony of decedent grandeur that will take your breath away. Under the 'hood' it's C. Bechstein 212 concert grand.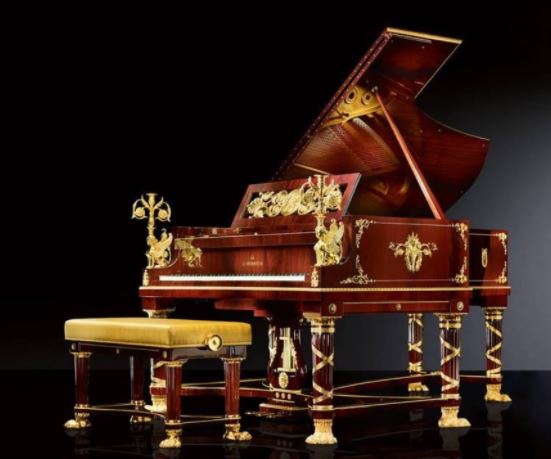 Pin
Features:
Historical replica
Third most expensive piano in the world
This grand piano is a material representation of the Fibonacci Series, the Renaissance's divine proportion ratio. Franck Pollaro designed this luxury limited edition Steinway model.
It traces Fibonacci's spiral as applied to Nautilus which grows without changing its form all over the body of this grand piano.
The remarkable case is inlaid with rare woods intarsia cut and placed by hand to create the outer veneer.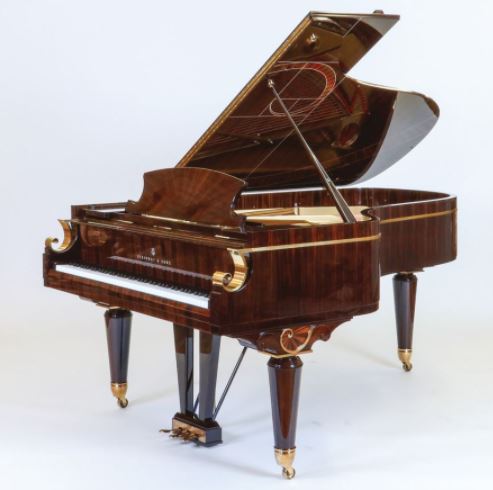 Pin
Features:
You won't find these beautiful pianos that is to say just anywhere, but I bet some of the most expensive restaurants in New York, probably has one of them.