Is almost time to welcome your new bundle of joy and you want to make sure you get the absolute best of the best when it comes to strollers? Then you are in the right place. If you want your child to stand out, then you need to make sure your stroller pick is loaded with top notch accessories. So today, we'll be telling you all about the most expensive stroller options out there.
Strollers shouldn't be as complicated as you may imagine; however, when you want the best of the best you need to ask important questions such as how good is the suspension? What kind of terrain can the stroller take? How does it deal with turns? And other shiny luxurious features. After all, you should get your money's worth.
If you are the type that values high quality, then you probably put your eyes on the most expensive items. So if you have your eyes set on premium selecting the absolute best withing a wide range to choose from, may sound challenging. To help you in the right direction, check out some of the most expensive stroller options, that certainly won't let you down.
Most Expensive Stroller FAQs
What is the most expensive stroller brand?
Stokke is a premium stroller brand with an experience of over a decade in the industry. Better in many ways than traditional strollers and prams, the Stokke Trailz is their most modern and expensive model on the market, a custom-made stroller that can carry a baby no matter the conditions.
What stroller does Kardashians use?
Nuna is one of the biggest names in the baby stroller world, and it's used by celebrities like Jessica Alba, Kylie Jenner, Kourtney Kardashian, and Eva Longoria.
Are expensive strollers worth it?
Mid to high-end strollers tend to have a much better resale value. What is resale value? It is basically the value of a product that has already been purchased. At the point where your kids have grown and you no longer have a need for it, selling the stroller you have invested in can help you recoup some of the costs.
What are the types of strollers?
Full-size strollers: Put simply, full-size strollers do it all. They let you transport your little bundle from day one and have plenty of storage to hold all of the baby's gear.
Travel systems: Some full-size strollers also travel systems, meaning they can attach to an infant car seat to easily transition baby from car to stroller. This also tends to be a budget-savvy way to purchase both a stroller and a car seat; you can also read more about the best travel stroller options to choose from.
Umbrella strollers: Many parents prefer lightweight umbrella strollers for travel or quick errands around town. True to the name, they fold up like an umbrella, making them portable and compact.
Convertible strollers: Some full-size strollers are convertible, meaning they can accommodate one, two, or even three children using additional seating configurations.
Reversible strollers: Also called modular strollers, reversible strollers offer the option to face your baby towards you, which is ideal for smaller babies; or facing out, allowing bigger infants and toddlers to see the world around them.
Jogging strollers: If you'd like the ability to run with a baby, you'll need a jogging stroller for its increased stability and shock absorption. Just note: These options aren't suitable for newborns; usually, the baby can't safely sit in a jogging stroller until about six months.
Double strollers: These baby strollers let you comfortably transport multiple children with two and sometimes more seats, either side by side or one in front of the other. Some of these strollers also offer rides on boards, where older children can stand while you push.
What features should you keep in mind when choosing an expensive stroller?
Bassinet: Many high-end strollers include a bassinet for use with infants and small babies.
Reclining stroller seat: Almost all luxury strollers have a fully reclining seat to allow your child to ride comfortably, whether asleep or awake.
Reversible seating: Many pricy strollers allow you to have the baby face you or face the world to enjoy viewing the surroundings.
Superior suspension: High-end strollers usually have high-quality suspension mechanisms, ensuring a smooth ride.
Adjustable handlebar: Most expensive strollers have an extendable handlebar allowing tall, short, or average parents to push comfortably.
Foldable design: Some expensive strollers have removable or foldable panels to minimize storage space and easier transportation. But, even then, because of the kind of materials and layers they are made of, most of these luxurious strollers are large and heavy, but most people who can afford these strollers obviously have plenty of space at home and in their car boot.
Customizable colors: Some luxury strollers allow you to choose the color options and patterns that will go with your family aesthetics.
Exclusivity: Some high-end stroller brands make only limited editions. They also issue a certificate of authenticity for the strollers to prevent imitations.
Luxurious fabrics: Most high-end strollers will use hand-stitched leather fabrics, sheepskin, and other choice fabrics and embellishments.
Convenient features and accessories: Expensive strollers have features like canopy and undercarriage baskets or trays but are usually very generous sized. They may also come with rain cover and bug nets or require you to buy them at an extra cost as accessories.
How much are baby strollers?
The cost of a regular baby stroller ranges from $85 to $750 with the luxury category of baby strollers starting at around $1,100. If you want to splurge, some of the most expensive strollers go as high as $10,000.
What makes a stroller expensive?
The materials used to make the stroller is what makes it expensive, especially if it is leather. Wheels can also play a large part, especially if they are huge and highly durable, as well the extras that the stroller comes with, including the finish among other things. Add that to how famous the brand is, and you will understand why they are insanely-priced
What factors are key in buying a stroller?
Safety: Go for a stroller with a 5-point harness, functional braking system, and ensure that it meets all the American safety regulations.
Comfort: Your baby's comfort should be a priority so ensure that the stroller seat is cozy enough and holds your little one snugly regardless of the terrain for a smooth and enjoyable ride.
Amount of storage: Make sure that the stroller offers enough storage for you and your baby's essentials to eliminate the need for extra storage bags.
Type of stroller: Do you need a single, double, or convertible stroller? Your needs, especially the number of kids, will influence the type of stroller you should invest in.
Car compatibility: If you drive a small car, some of these strollers will not fit. Go for a size that matches your car in case you want to carry it with you.
Most Expensive Stroller
The seat unit holds a class-leading 25kg One-hand seat recliner with four recline positions. Adjustable footrest for ultimate comfort iCandy's signature one-touch, five-point buckle.
A longer and deeper sitting space provides greater protection plus caters for babies of all sizes and weights. The seat unit easily adapts to the growth of your baby Luxury quilted fabric lines the seat liner.
Plus a super-soft harness binding and non-slip harness technology ensure your baby is always protected but within an exceptionally soft and comfortable environment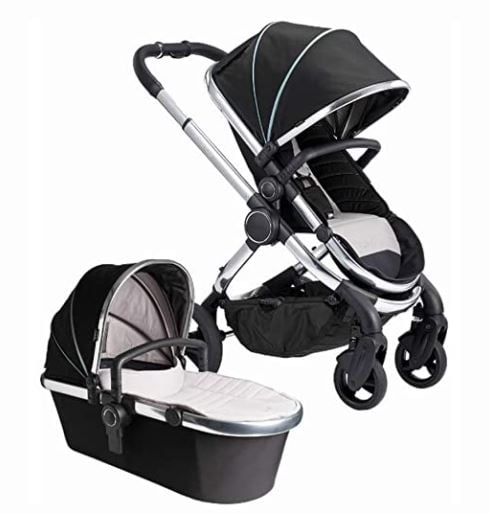 Pin
Features:
Leatherette carry handle
5-point harness
Includes car seat adaptors
Pros:
All-round suspension & large basket
Has Bassinet with luxury quilted fabrics
Suitable for overnight sleeping
Stokke Trailz, this amazing all-terrain stroller, is built for action and takes you wherever you want to go effortlessly with ease and comfort.
Like all Stokke Strollers, the seat and carrycot position are placed high up to encourage eye contact and connection between parent and child.
Superior steering makes it easy to push, while the advanced tire suspension ensures a smooth ride for your baby. Stokke Trailz is the perfect stroller for active families who love the outdoors – no matter the season or terrain.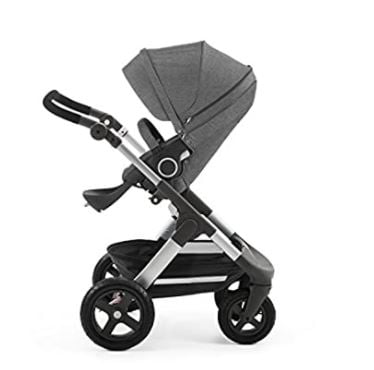 Pin
Features:
Large waterproof shopping basket
Strong construction
Lockable swivel front wheels
Adjustable handle
Pros:
Suitable from newborn
Provides parent and forward facing seating positions
Luxury and practicality offers the Kensington pram which is perfect for parents who prefer a traditional pram, but value the convenience of a detachable body and folding chassis.
Each Kensington pram is handmade in Yorkshire using traditional methods and feature a polished chrome chassis, hand stitched fabrics and hand painted fine line detailing.
The all round suspension provides an incredibly smooth ride for your baby. The large puncture resistant wheels create the special Kensington ride. The deeply padded mattress has a soft white pique cover. The hood and apron are hand stitched from hard wearing fabrics and feature chrome plated tensioners finished with Yorkshire Rose detailing.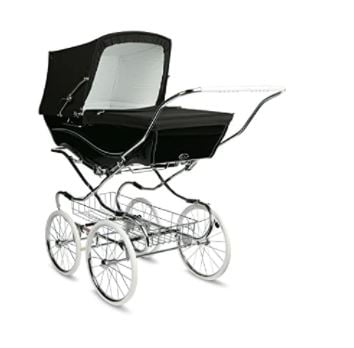 Pin
Features:
Fully lie-flat position
Adjustable seat
All-round suspension
Pros:
Foldable chassis for transportation and storage
Handcrafted using only the finest materials
Foldable design
Chassis and foot brake
Loved for its iconic design, the Cameleon3 easy-fold stroller has small and big wheels to seamlessly transition onto rough terrain. You can also raise and lower the handlebar for a comfortable ride regardless of your height.
Whether you want to bond with your baby, or you want to give them the opportunity to see the world, the Cameleon3 handlebar can be easily reversed on the go. Not only does the seat reverse, but it also has a three-position recline to keep kids comfortable on your journey.
Suitable for children up to 37.5lbs, our infant (with included bassinet) to toddler stroller is there for your family from day one! The stroller's adjustable suspension provides optimal driving performance as your child grows, which means fewer bumps on your journey.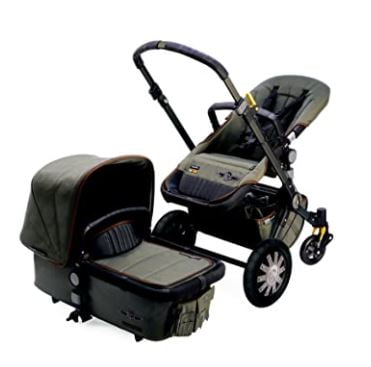 Pin
Features:
Reversible seating
Adjustable handlebar
Car seat compatibility
Pros:
Iconic design
Easy-fold stroller
3-position recline to boost comfort
The multipurpose unit is easy to operate and with tons of features from 360-degree swivel wheels for agility, one-handed maneuverability, foldable and self-standing chassis, reversible seating, adjustable back, and leg rests, cup holder, large undercarriage basket, a hood, and rain cover.
The Book Plus includes an all-season-ready Navetta XL bassinet with a windbreaker and carrying handle.
Moreover, the adjustable base allows the bassinet to function as a bed or a rocking cradle, easily attached to the Book Plus chassis.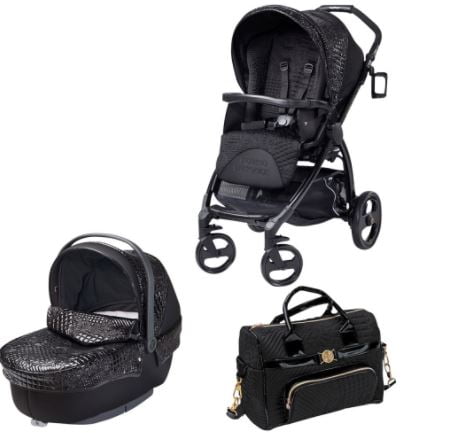 Pin
Features:
5-point safety belt
Canopy with an expandable window for ventilation
3 reclinable positions
Pros:
Breathable seatback
The handle is telescopic with two adjustable heights
Adjustable footrest
This limited edition has only 600 units, and each comes with a certificate of authenticity and an engraved brushed chrome plaque.
The pram and seat exterior feature luxury Alcantara suede, the same fabric used on the roofs of Aston Martin cars. The tan leather and sheepskin add to the comfort while adding a touch of elegance.
The complete pram system has a three-position reclining seat, reversible seating and can be used as a carrycot for infants and babies. The air ride suspension provides smooth rides in all terrains, and the extendable handlebar allows parents of different heights to push comfortably.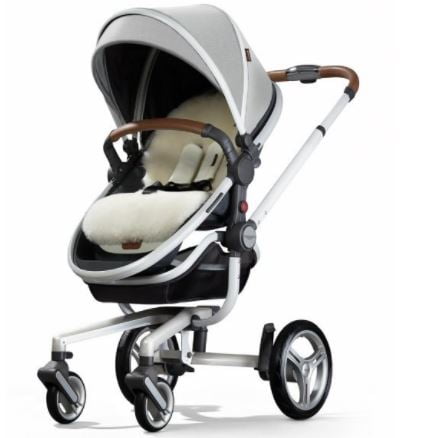 Pin
Features:
Adjustable reclining positions
Performance fabric hood & apron
Detachable folding shopping basket
Pros:
Lie flat carrycot
Suitable for newborn to toddler
3-position reclining seat for comfort
Now you know the perfect stroller for your little one, what about for you? Check out which is the most expensive bed and also the most expensive chair in the market.