If you consider yourself a huge drone enthusiast and are in the search of the most expensive drones, then you are in the right place. Long gone are the days when the use of drones was exclusive to military forces to gather intelligence or shoot down targets. Today a vast majority of this market is in the recreational flying industry. So today, we'll be telling you all about the most expensive drone options out there.
These gadgets make for a convenient way to shoot sporting events, weddings, beautiful landscapes, or anything else you wish to shoot from high altitudes. While first and foremost drones are used for shooting events, is safe to say today, that the industry is growing and evolving that new sports are being invented around flying drones.
If you are the type that values high quality, then you probably put your eyes on the most expensive items. So if you have your eyes set on premium keep in mind a budget drone may not work as you hope. Selecting the absolute best within a wide range to choose from, may sound challenging. To help you in the right direction, check out some of the most expensive drone options, that we think you will absolutely love.
Most Expensive Drone FAQ's
What is the #1 drone in the world?
Experts choose the DJI Air 2S. It hits the sweet spot of portability and performance better than any drone out there, thanks to its folding design, capable 1-inch sensor, and range of beginner-friendly flying modes. The Air 2S is the ideal choice for novices and hobbyists alike.
Which DJI drone is the most expensive?
At $6,000 the DJI Inspire 2 brought aerial film-making to the masses, also appearing on professional film sets around the world. For the second generation model, top speed is increased to 58mph (94kph) with accelerated ascent and descent and automatic collision avoidance (objects within 100 feet).
What should you consider when choosing the right drone?
Purpose of your data
This will determine how you're going to get value from your drone and what kind of software you'll need to purchase. Having a plan for data use will not only help you find the right drone but also save time and money when operations are underway.
Frequency of flight
Flight frequency affects both the hardware and insurance plan you'll need. If you plan to fly daily (or even weekly), consider ease-of-use and make sure you have the right coverage option.
Type of videos and images
Your drone can do a lot more than just take site surveys. They can also take gorgeous videos for marketing purposes and stakeholder updates.
Considering your imaging needs further clarifies your hardware requirements. Different drones excel at collecting different kinds of visual data, so be sure you have the right functionality.
Flight climate
Wind and rain are your two biggest enemies when trying to fly, but not for the reasons you might think. Most modern drones can remain stable in strong wind gusts, but low light and standing water can make it difficult to capture and stitch clear, accurate images.
Get the right camera
Drones have two types of payload: modular and fixed. Modular drones have interchangeable parts, meaning you can swap the camera and rotor blades. While this is a big advantage in specific cases, fixed payloads are simpler, cheaper, and require less specialization. Keep in mind lens and sensor quality, gimbal mount, and shutter speed.
Collision detection & communication loss
Communication loss is inevitable when remote controlling a drone, making recovery flight mode and collision detection invaluable. Keep in mind radio cameras.
Ease of use
Is it easy to get your drone out of the box and into the air? How easily you can get your drone flying will make a difference in how quickly you can capture data, and how much time your employees spend learning to fly. Keep in mind GPS calibration.
Durability and stability
Flying a construction drone means you don't have much choice about the timing and conditions in which you fly. You have to get your images and you have to get them regularly. Your drone has to be able to stand up to adverse weather and the occasional collision. Keep in mind wind resistance and battery life.
Most Expensive Drone Options
The PowerEgg X Wizard is a high-performance drone that provides a comprehensive drone flying experience, whether in inclement weather or on water, for photographers, outdoor enthusiasts, travelers, and more.
PowerEgg X Wizard includes a full waterproof kit. The waterproof housing provides ultimate protection for PowerEgg X which makes flying and filming in heavy rain possible.
The water-landing floats add an extra level of fun by allowing PowerEgg X to take off from and land on water. AI Face Recognition technology delivers accurate, efficient, multi-angle, remote face recognition and subject lock-on when following the subject.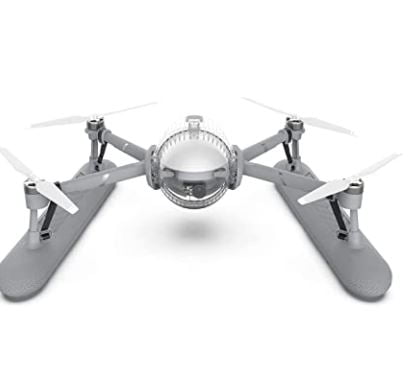 Features:
Remote Control
Micro SD
AI Tracking
Video Capture Resolution 4K
With the Zen muse X5, you have the world's first set of micro-four-thirds cameras built specifically for aerial photography and cinematography.
Bringing unparalleled imaging quality together with integrated 3-axis gimbal stabilization and remarkable ease of use, each empowers you to shoot and complete jobs like never before.
The DJI Inspire 1 Pro combines the finest quality with a reasonable price and that's why it is considered to be the go-to-drone for commercial videographers that need high-end quads for their job.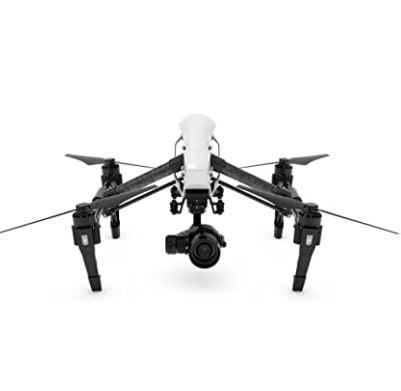 Features:
Perfect for high-level shoots and professional sets
Live, wireless HD video transmission via DJI Lightbridge
Included professional 4k camera and 3-axis stabilization gimbal
Ready-to-fly aerial system
Yuneec DataPilot software system enables users to efficiently and consistently create ortho maps, 3D scans, crop data imagery, or cinematic movement for repeatable, recallable aerial flight paths, without requiring expensive 3rd party software.
The H520 can also fly on just 5 rotors in an emergency encase of a lost motor or propeller. Six rotors, designed with the inspection industry in mind, with six-rotor systems that allows for stable, reliable, and precise flight.
The E50 gimbal camera, dubbed as the lense for details at a distance is a perfect film / cinematic or inspection camera. The E50 utilizes a high aperture 1/2.3 inch CMOS imager that is capable to capture still images with 12 MP resolution.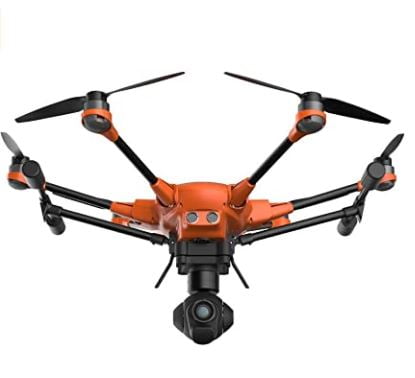 Features:
Receiver Frequency: 2.4 GHz
Carbon Fiber Frame
Retractable Landing Gear
It's the most recent drone in the Phantom series, bringing with it a sturdy construction, updated object avoidance, and stable 4k video recording.
Thanks to its gimbal design, you'll be able to capture steady footage, even if the drone is moving at high speed or changing direction.
The Phantom 4 Pro weighs approximately 1375g, has a max range of 7km / 4.1 miles, and a flight time of around 25 minutes.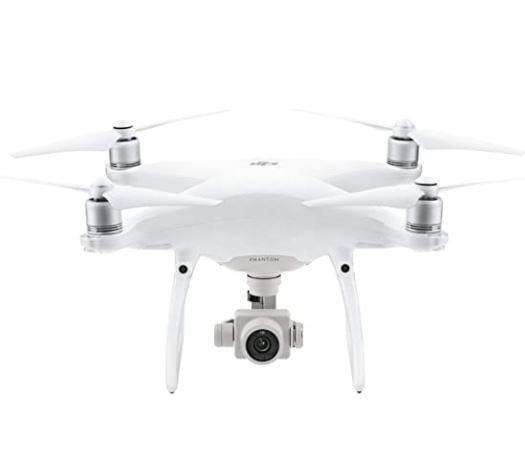 Features:
Camera with 1-inch 20MP sensor
Five directions of obstacle sensing
Remote Control
Handheld Transmitter With Built-in Monitor
The Inspire 2 takes everything that was good about Inspire 1 and improves it. An all-new image processing system records at up to 5.2K in cinema DNG raw, Apple prores, and more.
It goes from 0 to 50mph (80kph) in just 5 seconds and hits a maximum speed of 58mph (94kph) and has a max descent speed of 9M/s for unheard of speed and agility in an aircraft this size.
A dual battery system prolongs the flight time to a maximum of 27 minutes (with x4s), while self-heating technology allows it to fly even in low temperatures. Flight autonomy has been Revised and developed specifically for Inspire 2, providing two directions of obstacle avoidance and sensor redundancy.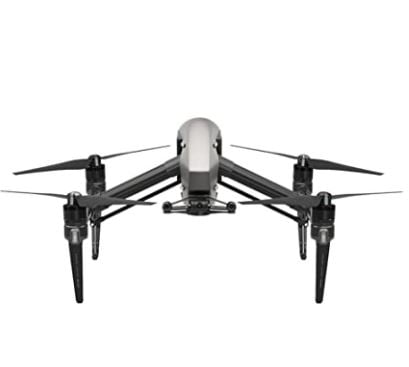 Features:
Efficient workflow
Sense and avoid
Spotlight Pro; Compatible with 5.2K Gimbal Cameras
The Tornado H920 Hexa-Copter from Yuneec is a six-rotor aerial platform optimized for flying a Panasonic GH4 camera. To support the camera, it works with the separately available GB603 gimbal, which serves to stabilize the camera while allowing it to move independently of the aircraft.
The Tornado's landing gear retracts to allow an unfettered 360 Degree view as the camera pans. A 5.8 GHz SD video downlink system is provided, and the included ST24 transmitter features an integrated 7″ Android device for live monitoring and OSD telemetry display.
This Tornado bundle comes ready-to-fly and includes a pre-bound transmitter, two flight batteries, a dual-battery charger, and aluminum casework with GB603 Gimbal for Panasonic GH4 camera.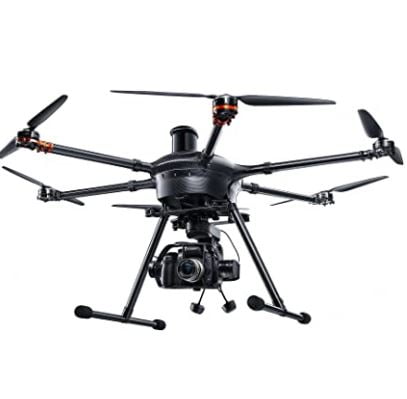 Features:
Aerial Shooting with Panasonic GH4
Carbon Fiber Frame
Retractable Landing Gear
ST24 Transmitter with 7″ Android Device
The Matrice 600 Pro (M600 Pro) inherits everything from the M600 with improved flight performance and better loading capacity. Pre-installed arms and antennas reduce the time required for setup and the system's modular design makes it easy to mount additional modules.
The airframe is equipped with the latest DJI technologies, including the A3 Pro flight controller, Lightbridge 2 HD transmission system, Intelligent Batteries, and Battery Management system.
All Zenmuse cameras and gimbals are natively compatible and full integration with third-party software and hardware makes the M600 Pro ideal for professional aerial photography and industrial applications.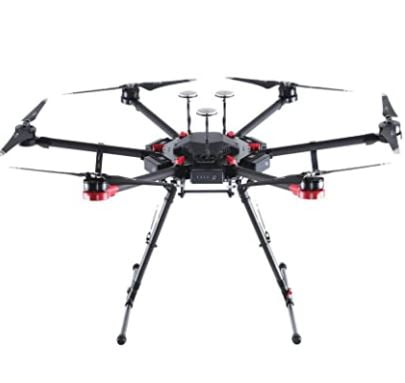 Features:
A3 Pro Flight Controller
Lightbridge 2 HD transmission system
Intelligent Batteries
Self-adaptive systems